My original intent had been to make this for yesterday's breakfast, since Michael was off work and there was no need to rise early to bake it - but, he was out of steel cut oats so we couldn't do it. Last night, when he headed out for some hummus and veggies for our lazy night's dinner, he also picked up some oats... rolled, as the nearest steel cut oats would require a longish drive to a Whole Foods.
I was planning to use
this recipe
as a guideline, but halving the recipe and using chopped mixed fruit and Craisins in place of their apricots (which I will definitely try another time), and so this is what I did:
The night before, I combined 3 cups of rolled oats with 1/2 cup chopped walnuts in a glass bowl, then added water just to cover and a couple tablespoons of buttermilk Michael had on hand, and a dash of sea salt.
(odds are higher that I'll usually have plain yogurt or whey I've saved from draining the yogurt to make yogurt cheese. The idea here is that you want to
add an acid
to your grains to make them more digestible. I didn't notice any impact in the flavor.)
The covered bowl of soaking nuts and grains was left on the counter overnight. Now the hard part (ha!) - to have this ready to eat before Michael had to head off to work, I had to get up before 7am to finish this off. That meant actually functioning in a kitchen that isn't mine before I've had any time to wake up -I am so proud! And this recipe is so easy that it was possible!
In the morning you want to combine 3 eggs, 1 cup of milk, and about 1/4 cup maple syrup, and whisk well to combine - it should be frothy when correctly mixed. Add the eggs to the oats (which I did not need to drain - the oats soaked it up completely), then fold in a tablespoon of cinnamon, a tablespoon of oil (we used walnut oil because that's what we had other than olive oil) and a couple handfuls of dried fruit.
Turn the oat mixture into a greased 9x9 baking dish and bake at 375F for 40 minutes.
We didn't eat it with anything - it takes a lot like bread pudding - but I thought a dollop of Greek yogurt and some banana slices would be a nice addition, along with another little drizzle of maple syrup. I also think this would make a nice homey dessert, maybe with some sauteed apples and whipped cream.
I am definitely doing this again - probably next week when I'm back home and can use steel cut oats -but the rolled oats work very well!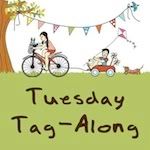 also...
Get Your Craft On Tuesday
Lucky Linky Tuesday
Anything Related - Food
Tuesdays At the Table
Slightly Indulgent Tuesday
Tasty Tuesdays