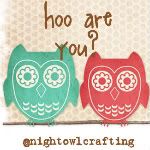 1.What was your favorite meal growing up?
I really loved pork chops as a kid - but they don't make pigs the way they used to. The chops growing up were juicy and tender and full of flavor and the bone was cut like a little T-bone that I'd gnaw on to get every last bit of flavor. Pork nowadays is leaner and bland and it takes a lot of doing not to have it be sawdust dry. So,along with far too many fresh veggies, pork has to get relegated to something that tastes a lot better in memory than it is in reality anymore. (Sign #1743 that I am getting old)
2. What's your favorite month?
Actually... October! It is full of color, good smells, a really fun holiday and is generally cool and crisp - and it's like the gateway month to the whole holiday season.
3. What store is most represented in your wardrobe?
Hah... it's been a long time since I shopped for clothes for me. But, there's a whole section of work clothes from Dress Barn in there - I don't wear them much but hey are taking up space.
4. How many times do you go to the movie theater each month/year?
Maybe about four times a year?
5. Fill in the blank- I've never been able to ___________________
Whistle. How stupid is that? That and brain surgery.